Waste is a constant in the world of technology. That's not hyperbole. Every year, respondents to the Flexera State of ITAM Report estimate their waste in desktop, datacenter, SaaS and cloud services at 33 percent or higher. Roughly one-third of IT budgets are being underutilized or completely wasted. Across the IT estate, organizations big and small are spending their budgets on technology they don't use instead of powering initiatives for the business.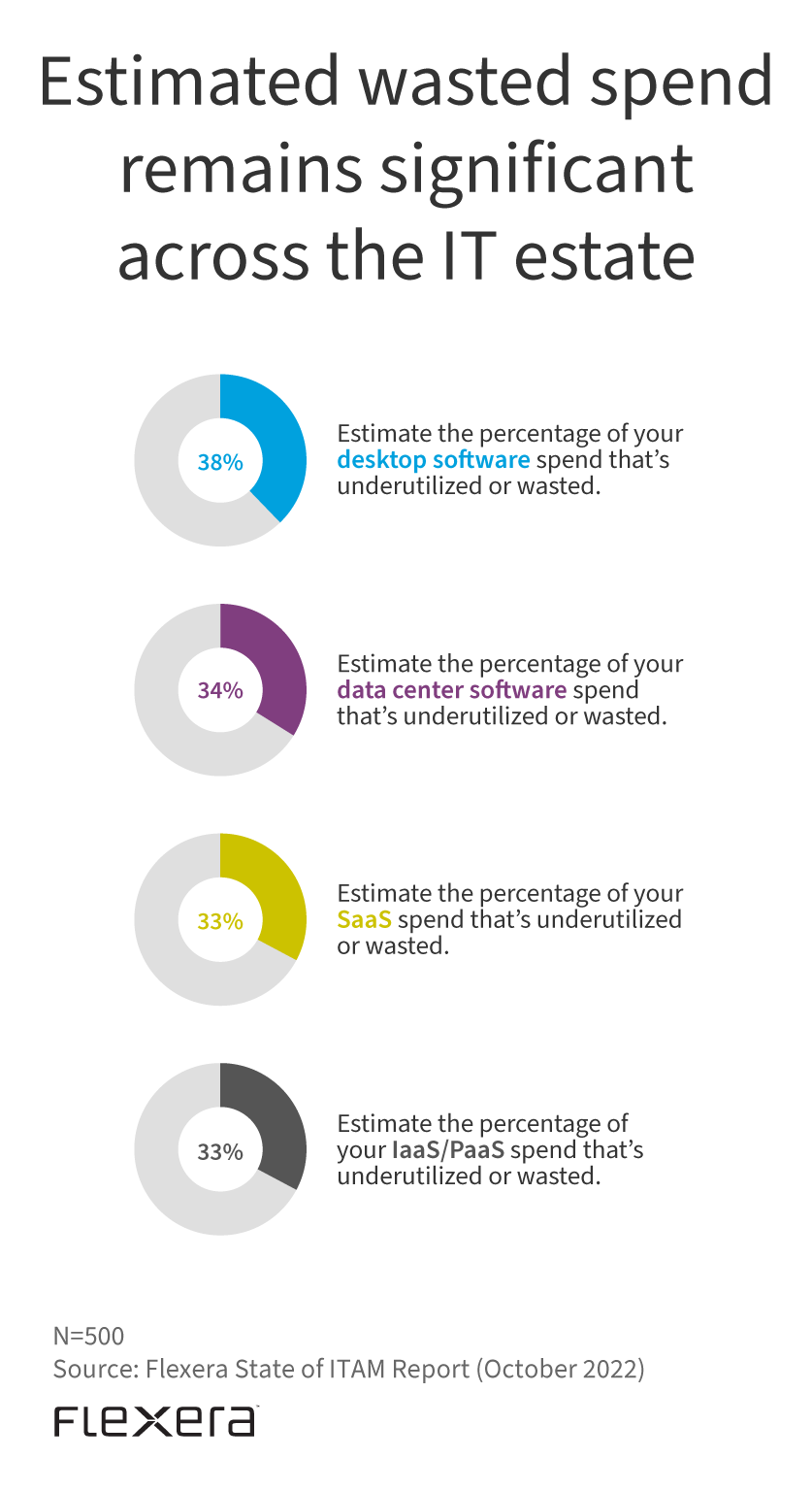 Eventually, one would think organizations would see that they continuously burn a third of their budget and seek to remedy. However, year after year, 30 percent plus remains the industry average. But it doesn't have to be that way in 2023 (and beyond).
How do you get ahead of all that wasted IT spend? By effectively planning your hybrid IT estate
From on-premises to SaaS and the cloud, support for your crucial business services—both for customers and internal programs—comes through the reliability of critical IT functions. The daily requirements of IT professionals often consume considerable bandwidth, making planning ahead difficult, but even more necessary.
As we look to effectively and efficiently plan the hybrid IT estate, it's important to start by getting a handle on what's there; what on-premises assets (hardware, software) are currently deployed, where are we leveraging SaaS applications and cloud assets? An overwhelming majority of organizations (65 percent) do not have complete visibility into IT assets and their impact on business outcomes. Comprehensive visibility across the entire IT estate is essential for making strategic decisions.
How much are you using, are you in compliance and are there opportunities to make adjustments that could have big impacts?
A recent 2022 Flexera Insider Report highlighted that as we prepare for a possible global recession in 2023, technology is considered a top-down strategic investment by 91 percent of respondents. Whether software, SaaS, cloud resources or IT infrastructure, once you know what you've got in the estate, the next logical step is to determine if, where and how you're using these assets. Important outcomes of knowing utilization include rightsizing and reallocation of assets, audit readiness and improved vendor contract negotiations.
While 48 percent of C-level executives believe they have insight into all their IT asset/resource usage, consumption and license data needed to effectively negotiate software contracts, only 29 percent of IT directors felt similarly. This illustrates the gap between what's happening in the estate and what the top-level executives are aware of.
Software licensing agreements can be confusing, vary from vendor to vendor and open customers up to audits if usage is not compliant. With 14 percent of respondents to the Flexera State of ITAM Report paying more than $5 million in software vendor audits over the past 3 years, including penalties or unbudgeted true-ups, and 87 percent paying more than $100,000, audits can be a tremendous burden for any organization. Software asset management (SAM) programs and tools help drive these costs down relative to the organization's size.
Not only that, but as SaaS application investment takes up roughly a fifth (19 percent) of annual technology spend, SAM programs are taking on more management of these investments and offering opportunities to rightsize contracts and reduce risk. For example, vendors like Salesforce have a considerable variety of solutions available, so it's not enough to just discover Salesforce in the environment; to get a handle on a vendor like Salesforce for a more successful negotiation, it's important to see all the modules—like Salesforce Marketing Cloud contacts and Salesforce App Exchange, for instance.
What's the plan for cloud migrations—what stays, what moves, what's penciled in for a later date?
Cloud migration is no small feat. Determining which assets and workloads can benefit from a move to the cloud often requires both deep knowledge of the estate and a firm grasp on your cloud environment(s). In many cases those on-premises resources are interdependent and weave a complex network.
Only 38 percent of IT directors (versus 53 percent of C-level executives) believe they're in full control of their cloud migration. No matter the strategy, cloud migration and modernization are imperative toward success in the cloud—including automating dependency mapping (for contextualization), cloud cost assessment and workload placement (for optimal transition and performance alignment) to map migrations with precision and prioritization based on organizational needs.
How can governance help you optimize your IT?
Governance across the IT estate puts in helpful guardrails as well as supports scaling with the increasing complexity of hybrid environments. Once visibility, utilization and migration efforts are established, successful IT planning must incorporate optimization of these foundational elements.
Cloud adoption continues to grow at breakneck speed. As shown below, 98 percent of organizations are currently using at least one public cloud provider, which leads to more complexity in the estate and budgeting. Good cloud governance practices can assist with reining in issues with outsized and rapid spend, but cloud cost optimization is at the core of getting the most efficient benefit from your cloud resources.
Building a governance plan can help you scale and manage your estate without unnecessary sprawl or exposure to security vulnerabilities. Governance helps to rightsize and even reallocate resources to timely projects, make decisions based on reliable insights into your technology, remain compliant with your vendors and maximize the value returned from your technology spend.
Technology Value Optimization
Reallocate spend. Reduce the risk of audits and security breaches. And chart the most effective path to the cloud. Get the most from every IT dollar.
Discover, evaluate, analyze and iterate
Start by discovering all the resources involved in your IT estate. Once your IT assets are assessed, it's important to understand how much, where and when you utilize them. With the current cloud expansion in most organizations, successful cloud migration planning requires these data points and contextual interdependency information to prioritize in the best interest of the business. Not only that, understanding current cloud consumption, billing and opportunities helps refine both the migration process and the implementation of guardrails and scaling through governance.
If this sounds like a lot, fear not. There are experts who help organizations like yours best plan their estates every day. Join Flexera's webinar to learn how you can plan your hybrid IT estate with the data and insights necessary to optimize the value your technology brings to the organization.